Community Church, Congregational
Community Church, Congregational
Who We Are
God still has a lot more to say. Religion is relevant—we extend an extravagant welcome to all—because no matter who you are, or where you are on life's journey, you're welcome here.
We are reshaping our understanding of the Christian faith and proclamation. At Community Church, anyone can find a spiritual home, be strengthened and nurtured in their faith and be blessed to reach out to others with their God-given gifts and talents.
At a time when religion is too often portrayed as narrow-minded and exclusive, many are raising their voices for an alternate vision:
- Where God is all-loving and inclusive
- Where the Church of Jesus Christ welcomes and accepts you as you are
- Where your mind is nourished as much as your soul
- Where Jesus the healer meets Jesus the revolutionary
- Where together we grow a just and peaceful world
You are welcome here.
About Us
Leadership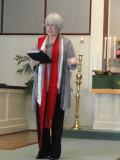 Rev. Paula Elizabeth, MDiv, MA
Rev. Elizabeth is an ordained minister in the United Church of Christ, specializing in transitional/intentional interim ministry. She has served six churches in the greater Boston area and now three in Southern California, presently serving Community Church Congregational UCC in Corona del Mar. She is also a Spiritual Director having been taught in the Jesuit tradition of inclusivity and openness, with 20 years experience. Rev. Elizabeth holds a master's degree in counseling with a specialty in trauma, grief and loss - skills she utilizes in ministry to churches, directees, and clients. Other credentials Rev. Elizabeth holds are in mediation, coaching and restorative justice. Rev. Elizabeth also serves on the Southern Association Executive Committee of the Southern California Nevada Conference as Vice-Moderator and on the Church and Ministry Committee of the UCC oversight board for churches and ministers.
Community Church, Congregational is a friendly place! Have been coming for about 7 years since relocating back to Newport Beach. Whether looking for activities, bible study, or an authentic place to explore your Christian journey, you are welcome here!