Oakmont, PA
Redeemer Lutheran Church
Redeemer Lutheran Church
"Nurturing souls for Jesus Christ through worship, missions and ministry"
Oakmont, PA
Who We Are
The English Evangelical Lutheran Church of Our Redeemer of Oakmont and Verona is an LCMS congregation in Oakmont, PA. We hold to The Church's historic teachings, liturgy, and hymnody. We operate a Christian Day School, starting with Pre-K at our church in Oakmont, and then going all the way up to Grade 12 at our campus at the end of Idaho Ave. in Penn Hills. We support missionaries in many places, including Latin America and India and Sri Lanka.
NOTE: This is one of two FaithStreet profiles for our congregation.
Our Services
Leadership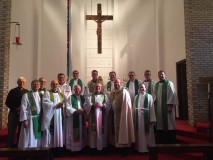 Brian Westgate
Pastor
Pastor Westgate was installed as our pastor on Sunday, July 31, 2016. Before that he was a pastor for five years north of here in Butler County. He comes from southeastern Michigan, and is a 2011 graduate of Concordia Theological Seminary in Fort Wayne. He and his wife have two young children. He is a student of The Church's historic liturgy and hymnody, and is a trained Lutheran organist.