Rainbow Apostolic Church Inc.
Rainbow Apostolic Church Inc.
Leadership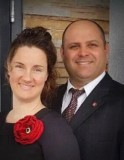 J. Patrick Fuller
Pastor
Pastor J.P. fuller began his journey with the Lord as a teenager in West Texas. he served in the U.S. Marine Corps. While stationed at Camp LeJeune, met his future wife, Jennifer. They made their home in Smithfield, NC and began a family of four children. He has served in many capacities, including bus ministry, nursing home ministry, prison ministry, youth pastor, assistant Pastor and Home missions church planting. He desires to take the gospel to those who may have never heard of the saving power of Christ.