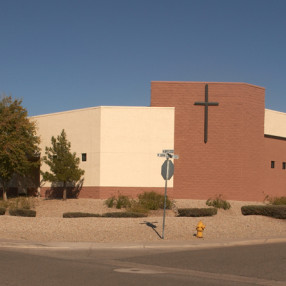 Who We Are
Our mission is to share Christ with he world and grow disciples for Jesus.
In March 1986, 57 charter members began worshiping in an elementary school - now we have a church, fellowship hall, and education building where our community worships, grows, and serves.
All are welcome to share their time, abilities, and financial resources to support the mission of Peace. You don't have to be a member of this community of faith to get involved. We encourage people to participate on the basis of their spiritual gifts, personal interests and passions, ability, and time availability. We offer you an opportunity to do more than "go to church" but to become the church for those in need.
---
---
Our Services
Service Times
Sunday
08:30am

-

A traditional style of worship with hymns and liturgy drawn primarily from the Lutheran Book of Worship (LBW) or Haugen Setting. From September through April the Adult Choir leads the congregation in song.

10:00am

-

Upbeat contemporary praise songs as well as hymns that have been arranged for guitar and drums enhance this worship, which is led by one of our 3 praise teams.
Saturday
05:30pm

-

A traditional/blended style of worship with liturgy drawn primarily from the Lutheran Book of Worship (LBW). Holy Communion is offered at this service every week.
What to Expect
---
Al Cassel
Pastor
Pastor Al Cassel was ordained in 1988 as a member of the first class of the newly formed ELCA. He was called to pastor at Peace in 2007.
---