First Presbyterian Church
Who We Are
Growing in the Spirit, Committed to Service, Sharing the Love
The Mission of First Presbyterian Church of Sun City is to celebrate, enjoy, and share God's gifts in an active community, growing in the Christian faith through worship, education, mission, evangelism, fellowship, and member support in the name of Jesus Christ. Come visit - come home!
First Presbyterian Church of Sun City is a warm, welcoming congregation located at the intersection of Alabama and 103rd Avenues in Sun City, Arizona. Our church is affiliated with the Presbyterian Church (USA), the Synod of the Southwest, and the Presbytery of Grand Canyon. We are also a Stephen Ministry church. We celebrated our 50th anniversary in 2013.
---
---
Our Services
Service Times
Sunday
09:00am

-

If you are looking for a friendly and welcoming church that reflects a solid grounding in the Reformed tradition and is ecumenical in spirit and practice, you belong here.
What to Expect
---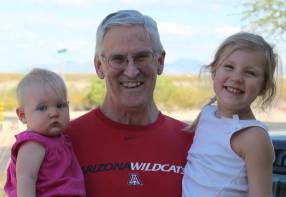 Tom Tripp
Pastor
After more than 30 years at the First Presbyterian Church in Colusa, CA, Tom Tripp joined us on July 1, 2018. Visit our website at http://firstpressuncity.org to listen to complete recordings of our church services, including Pastor Tom's insightful and inspiring sermons.
---