Oak Chapel Baptist Church
Oak Chapel Baptist Church
Adhering to the Reformation theology, affirming evangelicalism, cooperating with the SBC.
Orange, VA
Our Services
Leadership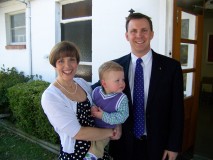 Steve Johnson
Pastor
Steve Johnson has been Pastor of Oak Chapel Baptist Church since 2016 and was previously Pastor of Mars Hill Baptist Church in Baltimore for over 12 years. Steve is blessed with a wonderful wife and an energetic, enthusiastic son. Steve enjoys preaching expositional sermons of God's Word and encouraging people to repent and rely on Jesus for salvation and growth in holiness.
I love Oak Chapel Baptist Church because the members are eager to hear God's Word and are trying to apply it to their lives. I have had the privilege of seeing individuals grow Spiritually over the past couple of years. My wife, son, and I have discovered a congregation that is loving, supportive, and encouraging, and is keenly aware of its shortcomings and where we need to change and grow the most.