North Brooklyn Baptist Church
North Brooklyn Baptist Church
A Growing Church in the Garden Spot of New York City!
Brooklyn, NY
Who We Are
North Brooklyn Baptist Church is a new Independent Baptist church in Greenpoint, Brooklyn.
Some of the first members of the Open Door Bible Baptist Church of Astoria were residents of Greenpoint. Since that time over 20 years ago, that church has been praying for an Open Door to start a new Baptist church in Greenpoint. God led the Michael Newburger family to Astoria to learn from their experiences and begin a new church in Greenpoint.
We are a church that believes that the Bible is God's Holy Word. It is the center of our ministry. We use the name Baptist because it links us to a group of people who down through the ages have held to a simple belief that what the Bible says is true. Our church offers no mystical experiences, just real Bible answers for life's greatest questions.
Being part of a church "plant" is an exciting experience. Having the opportunity to see a church grow from the ground level can do wonders for our faith. The most exhilarating part of a church's growth takes place within the lives of its people. Someone may ask, "what demographic are you trying to reach?" The answer is, "everyone!" That is the amazing thing about a church, people from all ages, nationalities and economic backgrounds can come together to serve Christ. We are excited to see what God is going to do at North Brooklyn Baptist Church. We invite you to join us for one of our services.
North Brooklyn Baptist Church is an outreach work of the Open Door Bible Baptist Church of Astoria.
About Us
Our Services
Leadership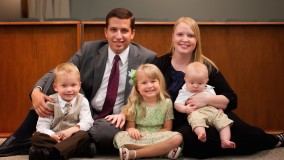 Michael Newburger
Pastor
Pastor Newburger is a Maryland native. He met his wife Kelly in high school when she invited him to attend her church. He received Christ as his Savior after a revival service at the First Baptist Church of Deale, Maryland. Mike and Kelly were married after both graduated from college. Pastor Newburger has earned a B.A. in Biblical Studies from Heartland Baptist Bible College in Oklahoma City, OK. He has served in two churches as a ministry intern and in one as an Associate Pastor. In 2010, the Newburgers moved to Astoria, Queens to work under the ministry of the Open Door Bible Baptist Church. There they began to learn the realities of life and ministry in the inner-city. This church is now sending them to Greenpoint to "plant" a new church. Pastor Newburger was formally ordained by the Open Door Bible Baptist Church of Astoria in 2013. The Newburgers reside in Greenpoint, Brooklyn with their three children.