The Greenpoint Reformed Church
Who We Are
We are a community church filled with all kinds of people. We meet for worship, gather for a community meetings, sing our hearts out, and volunteer to help feed the neighborhood. For over one hundred and fifty years, the people of the Greenpoint Church have faithfully served the neighborhood of Greenpoint, Brooklyn.
In the past several years, we have become a spiritual home for all kinds of people – especially people who are surprised to find themselves going to church! We're committed to the presence of children and young adults in the life of the church and to finding exciting ways of merging worship, spirituality and the arts.
While many of our members were raised in theologically orthodox or more conservative traditions, and some may continue to hold to what might be called an orthodox understanding of their faith, others are far more liberal in their personal faith. More than a few members admit that they don't know exactly what they believe, but they want to grow in their faith. Greenpoint is a place that is willing to exist within a primary tension of the Christian faith: not everyone sees and experiences Christ in the same way. We come from different places, with different understandings of what the faith means, but we hold to the motto: "in essentials: unity, in non-essentials: liberty, in all things: charity."
---
---
Our Services
Service Times
What to Expect
---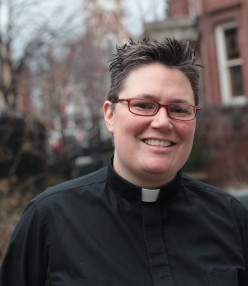 Ann Kansfield
Rev. Ann Kansfield work at Greenpoint includes worship, evangelism, theology, maintaining and improving the church building, publicity, public and community relations, fundraising, and grant work. She really likes God. Rev. Kansfield holds two degrees, a BA (with honors from) Columbia University and and Master of Divinity from New Brunswick Theological Seminary (summa cum laude). The four-week long bartending course during her educational years was invaluable. Her first foray into sharing the gospel occurred at the age of four when, without asking permission, she rode her Big Wheel around the neighborhood, inviting everyone to Easter worship, followed by dinner at her parent's house.
---
Everything except that it's about 700 miles from where I live.

This is a rocking' church with an amazing food distribution program and very inspiring worship!