Verona, PA
New Vision Community Church
New Vision Community Church
Christian, relational, contemporary music, family, all ages, Bible-based
Verona, PA
Who We Are
We are a Christian Church Located in Verona/Penn Hills area serving Greater Pittsburgh Pennsylvania:
Our Mission To provide the Community not only a place to worship, but also a place where you can find God's love come alive to assist you in your daily walk. A church where we are dedicated to the belief that there is One God, One Faith and One Family in Christ Jesus.
Our Services
Leadership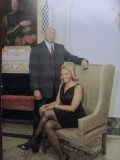 Rev. Jerry Craig
Christian greetings in the name of Jesus Christ the Son of God. I would like to extend my warmest appreciation to you for your loyalty and the wonderful work of God you are doing in these last days, may the Lord continue anointing and using you mightily in Jesus' name. This is Pastor Mwesigwa Samuel a lead pastor of Katuuso-Kasawo New Life Pentecostal Church in Mukono District, Nakifuma County, Namuganga Sub- County, Kitale Parish at Katuuso Village. I'm married to Florence Mwesigwa Nalongo with six biological children. What a privilege to have your email address!!!! Therefore I would like to humbly request you in the name of Jesus Christ that you come and Encourage,Strength and Build the Body of Jesus Christ here in Uganda. I would be grateful to see that my request has been considered well. PASTOR MWESIGWA SAMUEL.