New Life Christian Reformed Church
New Life Christian Reformed Church
Helping people experience New Life in Christ step by step
Spring, TX
Give
Plan Your Visit
Share
Who We Are
Welcome!
We are ordinary people, just like you. But we have an extraordinary God. And that extraordinary God has given us a mission here at New Life. We are all about fulfilling that mission: helping people experience New Life in Christ step by step.
If you have never had a personal relationship with Jesus, then the first thing we want for you is to know Him personally. Your experience of New Life can start today. All you need to do is open your heart to Him and ask Him to come in. Then you too can join us on this journey to God. Would like to know more about how to become a Christian?
Following Jesus means going through deep personal changes. But the changes do not stop there. When we follow Jesus, everything around us starts to change too. As the life of Christ begins to take shape in you, you begin to touch others with the life of Christ. New Life in Christ affects every area of life.
God loves us enough to accept us the way we are but He loves us too much to leave us the way we are. He has a desire for us: that we become like His son, Jesus. God places that desire in the heart of every true believer. Everyone is at a different place spiritually so here at New Life we will help you learn more about Jesus and how to imitate Him step by step.
Here at New Life, we want to help you bring change to your world. We will give you opportunities to reach out to the people closest to you: friends and neighbors and touch their lives with the love of Jesus Christ.
At New Life, we emphasize relationships: relationships with God, each other and our community. These relationships manifest themselves both inside the church and outside the church. Take a look at how you can live a new life at New Life!
Join us in worship some time and stay for coffee. You can also sign up for a welcome luncheon where you can get to know people and have your questions answered. It is held on the first Sunday of the month after church and childcare is available upon request. Just call the church office (281) 353-5935 or email us [email protected] We would love to get to know you!
Our Services
Leadership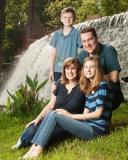 Andy Sytsma
My family and I moved to Texas in the summer of 2009. It feels like we've been here a lot longer than that and I've come to appreciate that saying, "I wasn't born here, but I got here as quick as I could!" I love basketball, reading good books, hanging out with my kids and trying out cheap hole-in-the wall restaurants with my wife Jacie. I grew up in Japan and Jacie grew up in Argentina and California. Before moving to Texas we lived in Michigan, Seattle and New Jersey. My prayer is that God will work in us so we can accomplish our mission to help people experience New Life in Christ step by step. My passion is to see lost people found, believers maturing in Christ, our community transformed, and all of us on mission following Jesus together.