Houston, TX
New Deliverance Bible Church
New Deliverance Bible Church
"Rooted in Christ, Growing in Faith, and Effecting Change through Grace!"
Houston, TX
Who We Are
WHO WE ARE
FOUNDATIONAL SCRIPTURE:
Colossians 1:12-14 "Giving thanks unto the Father, which hath made us meet to be partakers of the inheritance of the saints in light: who hath delivered us from the power of darkness, and hath translated us into the kingdom of his dear Son: in whom we have redemption through his blood, even the forgiveness of sins."
VISION STATEMENT:
We are a multifaceted apostolic ministry called to bring reconciliation to the body of Christ.
MISSION STATEMENT:
To strengthen and inspire other believers to embrace spiritual transformation and deepen their relationship with God through teaching the excellence of faith and maturity in Yeshua Ha'Mashiach (Jesus Christ). Also, to reach the unsaved, the lost and hurting world both locally and in foreign lands, through the gospel, hope and love of Jesus Christ.
CHURCH MOTTO:
Rooted in Christ, Growing in Faith, Effecting Change through Grace!
About Us
Our Services
Leadership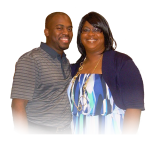 Prophet James & Prophetess Yolanda Banks
Pastors and Founders