Nashville First Seventh-day Adventist Church
Who We Are
Seventh-Day Adventist Church
The Nashville First Seventh-day Adventist Church, considered the South's oldest Adventist church, was established in Nashville over 100 years ago. The first church building was purchased by a small company of believers in 1905 in East Nashville on the corner of Fifth and Fatherland Streets (later demolished in 1969). Due to growth and the age of the building, a lot was purchased on the corner of Natchez Trace and Blair Blvd. and ground was broken for the current sanctuary on May 18th 1952. The congregation has been meeting together in this building ever since! There have been a few re-decorating changes to keep up with the times, but the basic structure of the building remains the same.
It is our desire to be a mission for Jesus in a city that is growing and ever changing as the years pass. We encourage you to read more about Seventh-day Adventists at the links below.
Pastor Melvin Santos and his wife, Juilet, have served First Church since 2008.
---
---
Our Services
Service Times
Wednesday
06:30pm

-

Bible Study Hour
Saturday
10:00am

-

Sabbath School

11:05am

-

Church Worship Service
---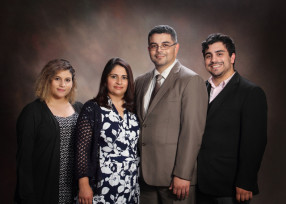 Nelson Mercado
Pastor Nelson Mercado has served as pastor in the KY-TN Conference since 2012 after graduating with a BA in Theology from SAU in Collegedale, TN. His first assignment was Murfreesboro/Tullahoma/Decherd Church district where he served for 6 years. Before he was a pastor, he worked as a paramedic for the Philadelphia Fire Department where he served for 11 years as both paramedic and firefighter and also worked as a paramedic for Memorial Hospital in Chattanooga for 4 years. He served our country in The US. Navy where he served as a Hospital Corpsman. Pastor Mercado graduated in December of 2019 with a master's in ministry with a concentration in Evangelism and Missions from Southern Adventist University. He has been married to his high school sweetheart Lucy since 1990. They have two kids, Jean Luc who is 28 and works as a payroll specialist, and Ariana who is 22, a student at Andrews University. Pastor Mercado is passionate about evangelism and making friends in the community.
---