Clayton, NC
Mosaic of Clayton
Mosaic of Clayton
Relational, Contemplative, Community, Come as you are
Clayton, NC
Who We Are
The mosaic form of art is quite unique. An artist takes the broken pieces of an array of material, like glass & tile, and uses them to create a new and beautiful image.
God's work is similar. For God is taking our brokenness and He is making us whole through Jesus Christ. Along the way, God is also piecing us together to form a community of people called the church, and an even greater community called the Kingdom of God.
God's Kingdom is similar to a mosaic. For God includes in His kingdom an array of people from different walks of life, of different ethnicity & journeys. Piecing these individuals together to form a beautiful image called the Kingdom of God.
Mosaic is a community of believers who desires to live out God's kingdom vision. Our community of believers is composed of a vast array of persons: children, students, single adults, couples & single parents.
Mosaic is a community seeing brokenness made whole by the love of Jesus. Our vision is to follow Jesus and seek to live centered on the Kingdom of God. Everything about our worship, ministry, discipleship & community is driven by that vision.
About Us
Our Services
Leadership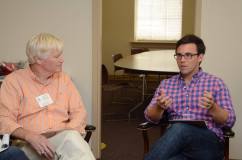 Andy Hale
Raised in Apex, NC, I attended Campbell University for undergraduate and Divinity School. At Campbell, I met my wife, Jennifer. We have a daughter, Madison. I have a heart for discipleship & seeing followers of Jesus grow in their relationship with Him. My desire is to help nurture authentic & lifelong followers of Jesus Christ into a mature relationship with God.