LeRoy, NY
Living Waters Church
Living Waters Church
A Nondenominational church in LeRoy, NY
Who We Are
At Living Waters Church, we feel that it's our responsibility to make it easy for you to come to church. We want you to be able to experience the great music, encouraging messages, friendly people and enjoyable atmosphere that are a part of our church.
Our Mission is that by becoming a people of God's Purpose, Presence and Power, we might impact the communities we serve, and the nations we reach.
About Us
Leadership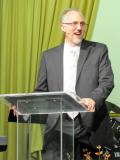 Jack Hempfling
Senior Pastor
Pastor Jack was born again in the summer of 1980 after graduating from Ohio State University with a degree in Natural Resources. He and Sandy were married in 1983, and they have three children: Abby, Andrew, and Joseph. A 1993 graduate of Elim Bible Institute, he has served as an Associate Pastor in Mount Morris NY, the Short Term Missions Director for Harvest Preparation International Ministries, and has been the Senior Pastor at Living Waters Church since early in 2001. Jack has published two leadership articles in Ministries Today magazine, traveled to many parts of Mexico as well as to Kenya, Tanzania, and Uganda on leadership training seminars, and led hundreds on short term mission trips to various nations. His Book "Before You Go" a daily devotional for short term missionaries, has been embraced by missions sending agencies across denominational lines.