Richmond, VA
Living Faith Christian Fellowship Church of God in Christ
Living Faith Christian Fellowship Church of God in Christ
"Making A Difference In Our Community"
Richmond, VA
Who We Are
Living Faith Christian Fellowship is a multi-racial, multi-cultural, Spirit-filled, Bible believing, Pentecostal organization that, among other things, provides spiritual guidance, Kingdom living instruction, practical life skills and other human resources to people and families from around the world, who are in need of a Savior, desire a church home or are experiencing temporary set-backs due to unemployment, illness or other life-impacting events. We are open to everyone - all are welcome!
About Us
Leadership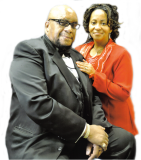 Alex & Michelle Boyd
Alex and Michelle Boyd, our pastors, are Spirit-filled, Spirit-led, Bible living, Saints of God. They are anointed to bring deliverance, healing and prosperity to all those who come to Living Faith Christian Fellowship. With a strong background in Christian Education and the inner workings of the Holy Spirit, Pastor and Lady Boyd are uniquely qualified to impact the lives of God's people and our community in a significant way.