Immanuel Episcopal Church, Old Church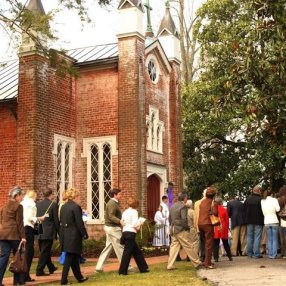 Who We Are
We follow Christ through worship, education, fellowship, & joyful song.
The 11 a.m. Sunday service with an organist and choir is the most popular service, especially for families with children. During the service, children are invited to join the priest and sit with him in the front of the church on the chancel steps for an informal, interactive children's sermon. The "young ministers" can participate as much or as little as they like. An average of 70 people attend this service each week.
The 9 a.m. Sunday service for early birds also includes organ music but no choir. About 20 people usually attend.
Both services follow Rite II and include the Holy Eucharist. All baptized people are invited to take communion. (We break bread and drink wine, or you may dip your bread in the wine.) Those who are not baptized may come to the communion rail for a blessing.
Music is an important part of worship at Immanuel, and you'll discover that our congregation likes to sing! Guest musicians and singers join us occasionally for special services to enrich the music program.
---
---
Our Services
Service Times
---
---