Hayward, CA
Iglesia Biblica La Roca
Iglesia Biblica La Roca
A Baptist church in Hayward, CA
Who We Are
Somos una iglesia dedicada a la enseñanza clara y expositiva de la Biblia y donde se goza de buen compañerismo tambien.
Visitenos! Sera muy bienvenido.
We are a church dedicated to the clear and expositive teaching of God's Word; a place to enjoy great fellowship.
Come visit us! You'll be welcomed.
About Us
Leadership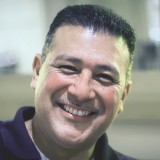 Carlos Vasquez
Pastor