Dover, NH
Great Bay Calvary
Great Bay Calvary
Go. Tell. Live.
Dover, NH
Who We Are
Similar churches often offer music styles like traditional hymns, contemporary, and hillsong-style. Programs like community service, missions, children's ministry, youth group, and young adults are also typical. by FaithStreet
Our Services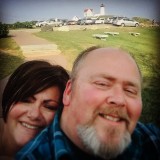 Pastor Jim and Karyl Davis
Senior Pastor
Pastor Jim and Karyl Davis came to Portsmouth in March 2014 from Las Vegas, NV. They are so excited and blessed that God led them to "plant" Great Bay Calvary Church. They take seriously the vision to Go into the community and the whole world; to Tell all about the love of Jesus Christ; and to Live a full and meaningful life, committed completely to God. They have three sons, one daughter (all adults). They have also been blessed with four grandkids.