Grace Episcopal Church
An Episcopal church in Traverse City, MI
Who We Are
As Episcopal Christians we:
Worship at home daily and together weekly;
Study the Scriptures, our tradition,
and what it means to be a disciple today;
Serve our families, our parish, and our world
in the name of Christ.
Everything we do is done with an ethic of
Welcome
because we are only here by Grace.
About Us
Leadership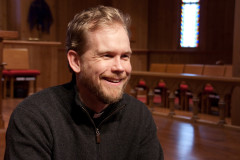 The Very Rev. Daniel Richards
Daniel Richards was ordained in the Episcopal Church in 2003 and came to Grace on February 14, 2009. Daniel comes most recently from the Diocese of Arizona where he was vicar of a mission in Phoenix.