Fountain Inn Reformed Church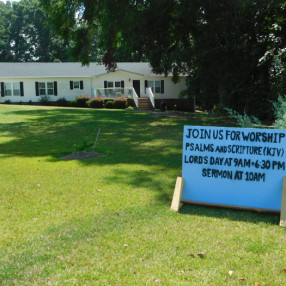 Who We Are
Psalm-Singing Worship Services and a Message that Affects all of Life for all Men
We are Bible-Believers dedicated to the doctrines of the Reformation. We have a strong conviction that both Church and State must be subject to the Lord Jesus Christ, and receive the Holy Scriptures for their direction. We believe in God's effectual grace, acknowledge a six-day creation, and support home-schooling. Please see the Westminster Confession (1647) for a more thorough statement of our beliefs.
---
---
Our Services
Service Times
Sunday
09:00am

-

Worship: Bible Reading and Psalms

10:00am

-

Instruction: Sermon

06:30pm

-

Evening Worship: Bible, Psalms, and Sermon
---
Jeremy Kerr
Jeremy was brought up within the Lutheran church in his youth, and came to know the Lord in his years as a student at high-school. His convictions about the Gospel from the Holy Scriptures led him to embrace the doctrines of the Protestant Reformation. Through the decades since, he has studied the Bible, Theology, Church History, and New Testament Greek. In the meanwhile, he has raised a large family and works as a software developer.
---