Simpsonville, SC
Eastminster Presbyterian Church Simpsonville
Eastminster Presbyterian Church Simpsonville
Presbyterian Church
Simpsonville, SC
Who We Are
Welcome to Eastminster Presbyterian Church. We are an active church located on Woodruff Road near Highway 14 and as you can see from our picture, we built our first building as a family life center. Our activities are very family oriented and we have worship services at 10:30 each Sunday morning. You'll find a traditional service in a casual atmosphere. and we would love to have you join us.
Eastminster Presbyterian Church is a member of the Foothills Presbytery and is affiliated with the Presbyterian Church of the United States of America-PC(USA)
About Us
Our Services
Leadership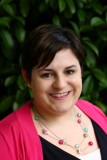 Pressley Cox
Pastor
Rev. Pressley Neal Cox is a native of Columbia, SC and graduated from Presbyterian College with a BA degree in Religion and Christian Education. She has a Master of Divinity degree from Columbia Seminary in Decatur, GA and a Master of Arts from the Lutheran Southern Seminary in Columbia, SC. Pressley has a strong sense of call to the ministry of Christian Education and is well grounded in the Reformed faith and has a commitment to the Presbyterian Church and its programs. She has served as Designated Pastor of Children, Youth and Young Adults at Providence Presbyterian Church in Charlotte, NC where she was ordained as minister of word and sacrament. In her past years of ministry she has served as the Worship Director for several youth conferences and co-director of a mid-high conference at Maryville College. She has been an independent writer for youth ministry "How To's" for the Presbyterian Church, USA. Pressley comes to us from Cascades Verdae where she served as Chaplain for the retirement community in Greenville, SC. Pressley is married to Ben and they have three children, Sara, Emily (twins), and Henry.