Focus Church
A New Church All About Life-Change Through Christ
Raleigh, NC
Who We Are
Focus Church began out of a God-given vision to see people experience life-change through Christ. This is the story…
Over the course of several years, founding pastors, Mike & Ashton Santiago, began to see God transform what was once a subtle calling, into an unmistakably clear commission. A burden began to grow for those who are far from God, for those who have been hurt in years past from previous churches attended, for those who are crying out for more than what their present circumstances are offering them, for those in need of life-change through Christ. As Mike began to cast this strong and passionate vision, God began forming a core team of leaders to stand behind him and support him through the birth of this life changing church.
On Memorial Day weekend of 2011, with great excitement and expectancy, seven of those leaders took a trip from Florida to Raleigh, NC. Because Mike knew who he was called to reach before he knew where he was called to plant, this was a HUGE leap of faith. After spending three days in prayer and preparation, it became increasingly clear that God was calling them to this specific area. Since then, the entire team has made plans to move to Raleigh and start Focus Church.
This is the beginning of a calling fulfilled.
This is the birth of a God-given vision.
Through Focus Church, Raleigh, NC will experience life-change through Christ.
About Us
Our Services
Leadership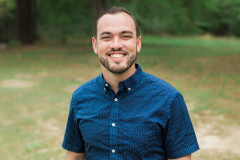 Mike Santiago
Founding pastors, Mike and Ashton Santiago, met and fell in love at the age of 15. Four years later they were married, working in full-time ministry, and all the while, growing their flourishing family. They have 3 children, Ariana, Joel, and Harmony, with hopes to adopt one or two more in the future. Mike was born into three generations of ministry. He has traveled to over thirty countries world-wide due to his father and grandfather's missionary work. His expansive ministry experience has encompassed a wide range of ages and cultures. Mike has served in full-time ministry for the past 5 years as a high-impact next generation pastor.