Raton, NM
First Presbyterian Church of Raton
First Presbyterian Church of Raton
live, personal, community, real, family, Christian, growing, renewed, friendly
Raton, NM
Who We Are
"God is light, in Him there is no darkness." 1 John 1:5 We, the church, invite you to walk in the light of Christ with us as we journey together here in the Raton area. Please feel free to join us each Sunday at 11 am for our service at 300 S. 3rd St where we join with one another and Pastor Siobhan in worship of God. We look forward to meeting you!
About Us
Our Services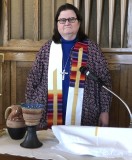 Siobhan Croto, MA, CP
Pastor
Pastor Siobhan attended Pittsburgh Theological Seminary and Dubuque Theological Seminary, earned her M.A. in English from the University of Kansas, her Bachelors in English with honors from N.M.S.U. After her M.A. she went on to teach Kindergarten through university students. She then served as a school administrator. Siobhan also served as youth minister, ordained elder, deacon, Christian caregiver, and Stephen Minister. Siobhan started serving FPC-Raton in July, 2020 and commissioned as the pastor in November of the same year.