Monroe, GA
First Baptist Church Monroe
First Baptist Church Monroe
Family, Friends, Faith
Monroe, GA
Who We Are
We are so glad to that you have chosen to visit and learn a little about us. First Baptist Monroe is a church that was founded over 150 years ago and continues to be a welcoming place where our motto, Family, Friends and Faith, sums up our belief that we are a church for everyone.
Three Worship Services
When coming onto our campus for worship there are three worship service options. At 8:30 a.m. we have a Praise and Worship service that is led by a band and singers. At 11:00 a.m. is our traditional worship worship with a complementing choir. At 11:11 a.m. we have in our Fellowship Hall our Contemporary worship service led by Chris Bryan and band.
All services have the same sermon by our pastor, Glen Money. In the 8:30 and 11 a.m. worship services Glen preaches live, and in the 11:11 service the sermon is played on two large screens.
You can come as you are to any of our services. There is no dress code. You will see people in jeans and polos and some who are more comfortable in suits. Whatever you wear, you won't be alone.
About Us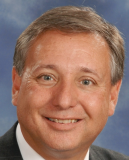 Glen Money
Senior Pastor
Since 1997, Dr. Glen Money has loved and led FBC through a strong season of healthy growth and transition. Before becoming our senior pastor, he was the associate pastor of FBC Albany, Georgia, and staff chaplain at Athens Regional Medical Center. In earlier years, he served churches in Indiana, Missouri, and Florida. A native of North Florida, he is a graduate of Florida State University, and he earned his Master of Divinity from Southern Seminary in Louisville. Pastor Glen has done postgraduate work at Valdosta State and Emory University, and he holds a doctorate from Princeton Theological Seminary. Glen is a storyteller who likes to camp out at the intersection of real truth and real life. He sees the church as a community of regular folks who choose to come together to grow, serve, and belong as we worship, experience, and follow Christ. Glen's wife, Lisa, of Ocala, Florida, is a well-known and respected personal trainer, following a twenty-year career in nursing. The Moneys have two sons, both married to teachers. Thad and Brittany live in Clermont, Florida, with their granddaughters, Morgan and Madison. Jordan and Anna live in Thomasville, Georgia, with their grand-dog, Chief. Glen loves golf, music, sports (Go 'Noles, Dawgs, and Braves), travel, and food; he flies planes and plays the guitar and other instruments less well. The Moneys live in Alcovy Lakes with their beloved lab, Dexter, and Hank, the three-legged cat.