Faith Family Ministries International Church
Faith Family Ministries International Church
Christian Church, Relational Sermons, Revelation, Love, Family, God, Jesus
Woodbridge, VA
Who We Are
e believe in God, the creator and ruler of the whole universe. He has existed in three personalities: the Father, the son and the Holy Spirit. (Genesis 1:1, 26, 27 & 3:22; Matthew 28:19; 1 Peter 1:2; 2)
We believe the Bible is God's Word to us. It was written by human authors, under the supernatural guidance of the Holy Spirit. It is the supreme source of truth for Christian beliefs about daily living. Because it is inspired by God, it is truth without any form of error (including scientific and historical).
(I Tim 1:13 & 3 :16; 2 Peter 1:20-21; I Cor 2:13; Psalm 119:105)
We believe in the deity of the Lord Jesus Christ, His virgin birth, His sinless and perfect life, His vicarious and atoning death through His shed blood, His bodily resurrection, and His present dominion at the right hand of God the Father. Jesus ascended to Heaven and will physically return again someday to earth to reign as King.
(Matt 1:22, 23; John 1:1-5, 14; Heb 4:14-15; 1 Cor 15:3-4; Rom 1:3-4)
We believe in the resurrection from the dead of both the saved and the lost; they that are saved into the resurrection of life and those that have not known God into the resurrection of judgment.
Salvation is God's free gift to us but we must accept it. We can never make up for our sin by self-improvement or good works. Only by trusting in Jesus Christ as God's offer of forgiveness can anyone be saved from sin's penalty of death. Eternal life begins the moment one receives Jesus Christ into his life by faith. (Rom 6:23; Eph 2:8-9; John 14:6, 1:2; Gal 3:26; Rom 5:1, 10:9-10)
We believe in the present ministry of the Holy Spirit, whose indwelling enables the Christian to lead a Godly life; and whose baptism provides power for service. (1 Corinthians 12-14)
We believe in the table of the Lord, commonly called Communion or the Lord's Supper, for believers.
(1 Cor 11:28-32)
We believe that worship is our number one priority.
We believe that Jesus' death on the cross provided physical healing to our human bodies. God's miracle power to us as we pray in faith (Isaiah 53:4, 5: Matt 8: 16, 17)
We believe in the spiritual unity of believers in the Lord Jesus
About Us
Our Services
Leadership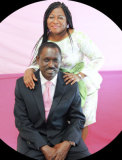 Rev. Eric Clarke
Pastor/Overseer
Rev. Eric Archibold Mensah Clarke is the General Overseer and the Senior Pastor of FFMIC for almost fifteen years. As Senior Pastor, he is the main teaching pastor and he is responsible for leading the church and the staff as we spread the good news of Jesus. Rev. Clarke is passionate about the members of FFMIC being a catalyst for the Gospel by taking it off the church and into the community. Rev. Clarke is very passionate about leading people to Christ and encouraging them in their faith. Rev. Clarke studied Electrical Engineering and Management prior to him going into ministry. He has a Doctorate in theology from Vision View Theological College. Rev. Clarke has a vast experience in the work of God that ranges from serving as a Sunday School Teacher, a Youth Minister and an Evangelist. His ministry experience spans a twenty-five year period in his home country Ghana and other African countries as well as in Europe, Asia, Central America and the United States. His unique teaching style emphasizes on holiness, character and separation unto the Lord's service. God uses Rev. Clarke to reveal the powerful meaning of God's love and inspiration. His personal testimony of God's saving grace has impacted people throughout the world and the lives of many have not only been transformed, but saved. His desire to spread the word has led him to preach and mount bigger platforms all over the world. Presently, under Rev. Clarke's excellent leadership, FFMIC is experiencing a holistic ministry that is spirit-filled. Other branches have been opened in Colorado and other African countries. He is a member of the NorthStar Network an association of Baptist and other non Baptist churches in the northern part of Virginia in the United States and a member of church multiplication group within NorthStar. The Baptist General Association of Virginia; Network of Ghanaian Ministers Association also in Northern Virginia, the vice president of Colorado Association of African pastors in Colorado where Pastor Clarke has established another branch of Faith Family Ministries International and a Network of Pastors from every denomination across the United States of American known as Pastors United in Battle (PUB). As a leader in the ministry, He serves as an advisor to a number of pastors and leaders. He has written about seven different evangelistic tracts which has helped the evangelistic mission of many churches in Virginia and Colorado. Rev. Clarke is a dedicated man of God with compassion, love, and grace.. Pastor Clarke is happily married to Elizabeth for over 20 years and they have a daughter, Eliza Florence Clarke. Elizabeth is a woman of strength in the face of adversity. She is an exquisite woman of God with much wisdom and knowledge. Elizabeth is a powerful reflection of Proverbs 31:10-31, and a true example of a "Woman of Noble Character." Elizabeth is currently the leader of the children service department.