Emmaus Episcopal Church, Surprise, Arizona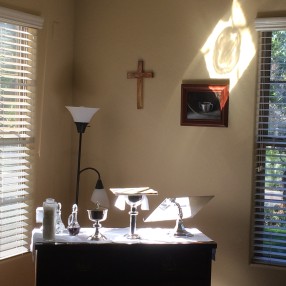 Who We Are
Real People. Real Life. Real Faith.
We are a courageous, open, and inclusive Episcopal community in Surprise, Arizona seeking everyone who wishes to live the Gospel commandment to seek and serve Christ in all persons, loving your neighbor as yourself.
Serving all of our neighbors by honoring and affirming the gifts given to every individual of any age, race, gender, sexual orientation, sexual identity, ethnicity, religion, marital status, employment status, economic status, and personal ability.
Rooted in thousands of years of apostolic tradition, and seeking to embrace the kind of radical love modeled by Christ himself, the Emmaus community strives to offer the calm of tradition in a busy and changing modern world.
Whether you are a lifelong Episcopalian, new to the Episcopal Church, "so done" with "church", a new Christian, are from another faith background, or no faith background, we offer a chance to worship, study, reflect, and question in an open and supportive community.
In short, we promise:
No platitudes. No easy answers. No gift cards. Real People. Real Life. Real Faith. Come & See!
The people of the emerging Emmaus community are committed to building a lasting, self-sufficient, multi-generational Episcopal parish in Surprise, Arizona; with God at its center and leaders who are committed to and believe in its members' ability to create genuine connections and grow together to learn what it is to be Christian.
---
---
Our Services
Service Times
Sunday
04:00pm

-

Emmaus Family Worship

05:30pm

-

Student & Young Adult Groups
Tuesday
06:30pm

-

Adult Bible Study
What to Expect
---
Emilie Finn & Deb Tickell
A True Partnership: As there were two disciples on the road to Emmaus, this project was begun, and, we believe, is being led by the Holy Spirit as a partnership. Our vision is to respond in kind, facilitating partnerships at every intersection. All are invited to join us on the road!
---