East Harlem Christian Fellowship
East Harlem Christian Fellowship
Who We Are
Christian community-based organization that strives to bring the church of Christ to the homes and locations of those that are unable or chose not to attend a traditional setting. We visit Christians in their homes, hospice, nursing homes, hospitals and anywhere else we are needed. We provide biblical counseling and studies, prayers and services.
About Us
Leadership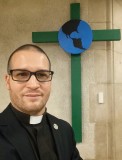 Rev. KELMY RODRIQUEZ Th.M.
Founder/ Pastor
Rev. Kelmy Rodriquez as a child was born and raised in East Harlem, New York. He has seen the short term and long term effects of poverty, social disadvantage, domestic violence, gang activity, drug dependency, illiteracy, and bullying in our community. He has endured and triumph over years of personal hardships and tribulations such as addiction, social deviance, sexual abuse and the murders of his mother, his fiance and daughter from gun violence He has decided to take a stand against social deviancy against our children and our elderly, advocate for resources that will address our community issues. He found a way to change his life, now he wants to help change yours. He is a Carver Houses resident, a New York County Democratic Committeeman, a Social Justice and Policy Activist, an Ordained Christian Minister, a Community Organizer, a former Emergency Responder and a Human Services Professional. He has and will continue to advocate for the necessary resources to ensure social and economical progression in East Harlem. He will continue to advocate for the creation of Anti-Bullying programs for our Children and Senior Citizens, Affordable Housing, Improved NYCHA living conditions, Job Development programs, working relationships between City agencies and Community Leaders, Drug Dependency programs along with Community Health programs and an end to the Jim Crow Drug Laws. He has worked with the homeless population within the New York City Shelter System's Diversion Unit and is currently working with families in the Homeless Prevention Unit. He spends most of his day preventing homelessness caused by rental arrears, overcrowding conditions, pending and post evictions. He serves as a Minister for various Christian organizations and is the founder of the East Harlem Christian Fellowship, a Christian based organization that strives to bring the Church of Christ to the homes of Christians that are not able or wish not to attend a traditional church setting due to disabilities, geriatric status and whatever personal reason they may have. He is a father of 4 children and has an graduate degree in Theology and Christian Counseling. He is passionately involved ministry, civic organizations, human rights, social justice and political organizations and has been a contributor regarding Community Policing, Public Health and Safety matters on various news networks such as CNN, WPIX 11, FOX 5, NBC 4, 1010 WINS & Channel 7 Eyewitness News gaining national and international exposure.  He is a recipient of a New York State Assembly Citation for Exceptional Community Service and a International Humanitarian Award for Societal contributions. If you or someone you know are in need… Want a bible study or prayer… Have a family member or love one you wish for Kelmy or a fellow Minister to visit… The East Harlem Christian Fellowship is a Chartered Ministry by the National Association of Christian Ministers.  Email the East Harlem Christian Fellowship @
[email protected]
"Rebuilding HIS Glory in the Community" Follow us on Twitter or Facebook.