Gahanna, OH
First Baptist Church of Gahanna
First Baptist Church of Gahanna
A Baptist (SBC) church in Gahanna, OH
Who We Are
At First Baptist Church of Gahanna, you'll find Biblical teaching, Christ-centered worship and a loving fellowship.
We invite you to join us for worship at your earliest opportunity. We want to get to know you, to minister to your family and to encourage you to grow in your relationship with our Lord and Savior Jesus Christ.
Worship includes praising God with instrumental and vocal music. We sing traditional hymns and contemporary choruses. ("O come, let us sing for joy to the LORD,Let us shout joyfully to the rock of our salvation." Psalm 95:1 )
It is our privilege to bring praise, thanksgiving, confession and requests to God in prayer. If you have a need, we would be honored to pray for you. Prayer request slips are available in the pew pocket or emailing it through the Contact us Page. ("Do not be anxious about anything, but in everything, by prayer and petition, with thanksgiving, present your requests to God." Phillipians 4:6)
An offering is taken to support the work of our church as well as missions work in our country and around the world. This portion of the service is intended only for those who consider First Baptist Church of Gahanna their "church home."
("Each one must do just as he has purposed in his heart, not grudgingly or under compulsion, for God loves a cheerful giver." 2 Corinthians 9:7 )
You will fit in at First Baptist Church of Gahanna whether you are dressed formally or in a more casual style. You will see a wide range of styles at our services. Remember we are coming to worship the Lord, so please dress in a modest manner
About Us
Our Services
Leadership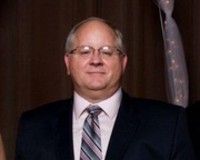 Tom Dove
Tom Dove and his wife Diane joined in the ministry of First Baptist Church of Gahanna in September, 1989. Pastor Tom has a passion for preaching and teaching God's Word. He believes that if we love God and love one another, then we will fulfill God's will for this church and this community. His vision is to renew the church's efforts to reach the lost with the Gospel message of Christ and to take every opportunity that God brings our way to make a difference in this community for His glory. Tom and Diane have 3 grown children, Michael, Stacy, and Sarah.