Lexington, SC
Covenant Community Church
Covenant Community Church
You will be welcome here. We are all equal at the foot of the Cross.
Lexington, SC
Who We Are
A MESSAGE FROM OUR PASTOR
Welcome to Covenant Community Church. We're glad you found us!
But more important than finding us is finding Jesus in the midst of all that you have going on. And that's really what we're all about at CCC. Jesus is the reason we exist. And helping you grow in your relationship with him is our number one goal. Whether you've been a Christian all your life, you're just getting started, or you still don't know what you think about all this "religious" stuff, we just want to help you get to the next step in your journey.
God created you to glorify Him and enjoy Him forever. And the good news is that God has made a way for you to do that through faith in Jesus Christ.
We understand that there are lots of religious choices out there today, but we're not talking about religion. We're talking about a RELATIONSHIP with God. Unlike religion, this relationship isn't based on what you do to measure up to God's standards. The relationship that we're talking about is based on what God has done for you. You see, the Bible says...
________________________________________
For our sake [God] made him to be sin who knew no sin, so that in him we might become the righteousness of God.
2 Corinthians 5:21
________________________________________
Isn't that great? What we couldn't do for ourselves, God did so that we could do what he created us to do. If you would like to know more about this relationship, we would love to discuss that with you.
You can join us in worship on Sundays at 11:00 AM. You can also read more about the good news of what God has done for you in Jesus through our website: www.growingnewlives.org.

About Us
Leadership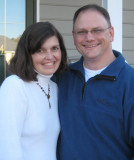 Andy Newell
________________________________________ Andy spent his childhood growing up outside of Louisville, KY where he came to faith in the Lord Jesus Christ as a result of the proclamation of the gospel as recorded in John 15:5. He moved to Charleston, SC in the fall of 1989 to attend The Citadel. After graduating in 1993, Andy began his ministry as a summer youth intern in Sumter, SC. While in Sumter, Andy met his wife, Kim, whom he married in the fall of 1995. Andy and Kim attended Reformed Theological Seminary in Charlotte, NC from 1997 – 2000. After graduating with his Masters of Divinity, Andy received a call to become the solo pastor of New Philadelphia PCA Church in Quincy, FL. He and Kim spent seven years ministering in Quincy, where they were blessed with three children: Murray, Caleb, and Anna Grace. In June 2007, Andy received a call to become the Assistant Pastor to Families, Youth, and Children at Trinity PCA Church in Orangeburg, SC. During his ministry there, Andy felt the call to pursue Church Planting as a ministry opportunity. Following his and Kim's completion of the Church Planter's Assessment Center in Atlanta, GA, Andy was introduced to the ministry at Covenant Community Church. By the grace of God and in His providence, Andy was called to become the Senior Pastor of CCC in April of 2010. He was installed on May 16, 2010. As an under-shepherd of Jesus Christ, Andy is privileged to join God in what He is doing in and through the ministry of CCC as God advances His kingdom through the transformational power of His gospel.