COMMUNITY CHURCH Mountain City
Who We Are
Biblical, Independent, Purpose Driven
Community Church is an independent non-denominational fellowship of Christian Believers. Our worship follows Biblical precedent: a call to worship in song & prayer, followed by the expository teaching & preaching of the Word of God as revealed in the Holy Bible by the Holy Spirit of God. Our prayers are a significant segment of our service as every person has the opportunity to intercede on behalf of the needs of our fellow man.
Established under the authority and pattern of New Testament doctrine and practice, our purpose is to glorify God - today and everyday in life and in living ministry.
YOU ARE INVITED: Come enjoin us for worship- in Spirit and in Truth.
---
---
Our Services
Service Times
Sunday
09:30am

-

Fellowship: Coffee & Juice

10:00am

-

Bible Study

11:00am

-

Praise Service w/Ensemble

11:30am

-

Worship in the Word

12:00pm

-

Testimonies, Confirmations, & Confessiopns

12:15pm

-

Prayers, Cares, & Concerns

12:30pm

-

Benediction & Dismissal
Monday
04:30pm

-

Personal Counseling

06:00pm

-

Informal Prayer Service
Wednesday
04:30pm

-

Personal Counseling

06:00pm

-

Family Activities, Movies, etc, as announced
Saturday
08:30am

-

Family Assistance Ministry
What to Expect
---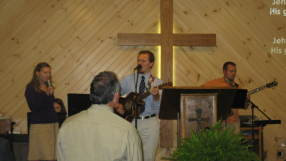 RON DRAKE
Founding Pastor since 1991, served in foreign missions for 10 yrs in Latin American ministry. Training & Education at Trinity Theological Seminary with Masters in Pastoral Ministry, after graduating from the Univ. of TN in Knoxville, TN, Class of 1969.
---