Who We Are
Love God | Love People | Love the City
City Pres is a new church to Oklahoma City. We are hear to love God, love people and love Oklahoma City.
We meet on Sunday nights at 5pm in downtown Oklahoma City for our worship services and we meet in CityGroups in homes throughout the week. We love to throw great parties, serve our city, tell stories of rescue hope and purpose, and walk together with Jesus.
All are welcome regardless of personal or religious background. City Pres is here for the convinced and the unconvinced, the lost, the found, the burned, bored, cynical and the spiritual. We invite you, no matter where you are in the process, to City Pres.
---
---
Our Services
Service Times
What to Expect
---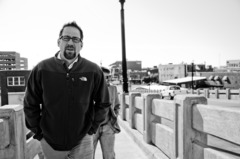 Doug Serven
Doug is ordained in the Presbyterian Church in America. He graduated from Covenant Seminary with an Mdiv and has a Master's of Professional Writing from OU. He and his wife Julie moved to Norman in 2001 and he served as the RUF Campus Minister at OU for 10 years. He graduated from the University of Missouri with a journalism degree. He and Julie have four kids: Ruth, Cal, Drew and Anna. Doug loves to read, play board games, brew beer, play racquetball, drink coffee. He especially follows the OKC Thunder and the St Louis Cardinals.
---