Sacramento, CA
Grace Sacramento
Grace Sacramento
Toward God. Toward Community. For the World.
Sacramento, CA
Who We Are
Grace Sacramento exists to enfold individuals and families into a community that loves God and neighbor and believes that the gospel of Jesus Christ can transform the world.
More people live in urban centers than at any other moment in human history. This means that today God's mission of grace to redeem humanity and creation is a mission "in the city" more than ever before. Our mission is in Sacramento. Our hope is in a city where the grace of God will dwell with humanity, we will be His people and God Himself will be with us as our God.
We meet at the facilities of St. Paul's Lutheran Church.
About Us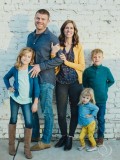 Brad Carpenter
Pastor
Brad is a farm boy from Michigan, went to high school in Illinois and college in St. Paul Minnesota. He is NOT a Packer fan. He has a BA in youth ministry from Bethel college where he met and married the amazing Olivia. They moved to California in a rented U-Haul in the year 2000 and haven't been able to stay away from Sacramento since then. He studied theology at Trinity Evangelical Divinity School in Deerfield, IL (MA) before returning to California to be ordained in 2006. There are three crazy and creative Carpenter kids: Flannery, Asher and Story. The Carpenters have lived in Sacramento for the last 5 years and were part of the core team that founded City of Grace Church which would later become part of Grace Sacramento. ​ Brad loves live theater, running, home renovation and wrestling with his kids. For pleasure he reads Flannery O'Connor, Wendell Berry, Gary D. Schmidt and young adult fiction. Brad and Olivia love Netflix, ice cream and improv comedy.