City of Faith Christian Center
Who We Are
Christian church, Word of Faith, Relevant, contemporary Faith, Supernatural
Greetings in the name of our Lord and Savior Jesus Christ! Verndella and I, along with our Church family, would like to welcome you to the City of Faith Christian Center. We are so glad that you have chosen to visit with us today. It is our desire that your visit is rich and rewarding. The City of Faith Christian Center is a Word of Faith, non-denominational, full gospel church. Our mission is reaching and harvesting lost souls for Christ and teaching the Body of Christ how to effectively apply God's principles to have victory in every area of life. The City of Faith is a place where people can come to learn to use the Word of God as the Covenant of God, thus building a relationship with God, and not just being religious. We have compiled the following information to familiarize you with the ministry and the vision God has given us. We believe that the Bible is the undisputed authority for the Church order and government. As we learn Biblical principles, and gain knowledge of God Word, we expect that all who come will see their lives changed and their dreams become a reality. If you are looking for a Church home, we invite you to be a part of all the wonderful things that God is doing here. Most importantly pray and seek God direction for a body of Christ to join. We are here to serve you and your family, and we pray that you are blessed by this ministry. Thank you for visiting with us. We look forward to seeing you again.
---
---
Our Services
Service Times
Sunday
10:30am

-

Sunday Morning Worship
Tuesday
07:00pm

-

Midweek Bible Study
---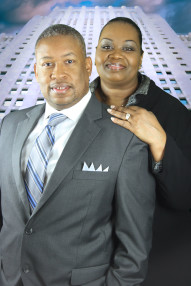 Kevin Rogers
Senior Pastor
Pastor Kevin is a visionary that God have anointed for this day and time. Pastor Kevin was born and raised in Linden, Alabama. He joined the military directly out of high school and spent 10 years in the United States Army, taking him basically all around the world. During his second year in the military is when Pastor Kevin married his wife Verndella who is from Eutaw, Alabama. Pastor Kevin and his newly wife was sent to Lisbon, Portugal where they both received the Lord. Upon returning back to the United States the Lord sent them to Tacoma, Washington where the Lord begin to plant them in a local ministry. Within the next 2 years God begin to grow them up for something greater. In January 1998, Pastor Kevin went to South Korea for one year; during that year is when the Lord called him into the ministry and during that particular year, Pastor Kevin was one of the Associate on staff at the Living Word Gospel church, where he held several positions. He was the Chief Financial Officer of the church and also the Overseer of the New Converts Education Course and Pastoral Assistant. Upon returning back Pastor Kevin came back to the same local church for another year and then the Lord moved him and his wife to another local church in the city of Lakewood. During this time the Lord had elevated Pastor Kevin as the Associate Pastor of that local church, Pastor Kevin was over the Media Ministry and any other place he was willing to serve. After serving 2 years as the associate Pastor, God elevated Pastor Kevin once again and he became the Senior Pastor of Hosanna Church of the Redeemed. After a year and a half, the Lord directed Pastor Kevin to rename the church to Hosanna Family Worship Center during this time the Lord also had revealed to Pastor Kevin and directed him to come under the authority and leadership of his new spiritual father Dr. Bill Winston of Bill Winston Ministries, Senior Pastor of Living Word Christian Center and Faith Ministries Alliance in Forest Park, Illinois and not long after that, Pastor Kevin was ordained by the laying on of hands by Dr. Bill Winston and the blessing that is on his life was imparted to Pastor Kevin. In 2009 the Lord instructed Pastor Kevin to rename the church to the City of Faith Christian Center. God have birth several ministries through the visionary, Pastor Kevin and his wife Verndella. God have birth a Manna from Above Media ministry. Also God have birth Supernatural Evangelism, Times of Refreshing Women ministry, Men of the Kingdom ministry, Foundation Ministry, Intercessory Prayer Ministry, Kevin Rogers Ministries, Living By Faith Television Broadcast airs weekly in Seattle/Tacoma, Portland Oregon and also airing in 65 nations in the whole Asian continent, and City of Faith Superkidz Church. Pastor Kevin also oversees a newly planted ministry in Raleigh, North Carolina- City of Truth Christian Center (Senior Pastor O'Jetta D Miley). God is continuing birthing ministries from above. Pastor Kevin and Verndella is walking by faith and building on the principles of God word. Pastor Kevin currently holds a Bachelor Degree in CIS-Network Security and MBA in Marketing.
---