Christian Life Center Church
Christian Life Center Church
The church where everybody is somebody and Jesus Christ is Lord!
Roseburg, OR
Who We Are
You'll feel right at home at Christian Life Center in Roseburg! Worship our Lord in your own way. Right away, you'll feel welcome to join right in as we praise God together. We look forward to you making Christian Life Center your church home. We create an environment of freedom in worship. You can praise the Lord in the style most appropriate for you! Christian Life Center's spirit-filled services and Bible studies are Biblically-based sermons and lessons designed to help one grow as a Christian. The ultimate goal is to prepare saints to walk with the Lord, ensuring their salvation.
About Us
Our Services
Leadership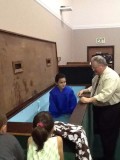 Gary Miles
Senior Pastor
They do not meet the needs of the community. They do not reach out to anyone. They have a very sleepy mentality. Find somewhere else to go.

The Website is informative: clcroseburg.org Wonderful spirit-filled worship, sermons, ministries, and Bible studies.