Christ Church of the Ascension
Christ Church of the Ascension
Who We Are
Christ Church of the Ascension (CCAAZ) is a member parish of the Episcopal Church in the United States, and the Episcopal Diocese of Arizona. We are located in the heart of Paradise Valley, Arizona at the base of serene Camelback Mountain in Phoenix.
Our Phoenix, AZ parish rests on Four Foundations of the Christian life: Worship, Service, Education and Giving.
Worship – We give regular praise and thanksgiving to God through the many worship services offered: Sunday Eucharist, weekday Evening Prayer, mid-week Eucharist and special Festival Commemorations.
Service – We believe service to others is an integral part of the Christian faith. We strongly encourage our members to get involved with an outreach ministry to those in need in the Phoenix, AZ area. See Service tab for examples of service inside and outside of CCAAZ
Education – The motto "Christians are made, not born, is the basis of our goal to provide high-quality Christian education for our entire community. "Education" and "Family Ministries" tabs provide more information.
Giving – We believe that in thanksgiving for the life which God has given us in Jesus Christ, it is our duty to help support the parish and its ministries through financial giving.
Our setting is beautiful and our programs are thoughtfully planned. The best way to know this Christ Church is to visit with us and meet the people of CCAAZ. Please accept our invitation to worship with us any Sunday.
About Us
Our Services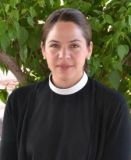 The Reverend Elizabeth Blunt
Associate Rector
The Rev. Elizabeth "Beth" Blunt was raised in southwest Michigan. She received her Bachelor's Degree in English Literature from Bowdoin College before moving to Breckenridge, Colorado, and then to Phoenix in 2004. Prior to pursuing her call to ordained ministry, she worked in hospitality management, nonprofit fundraising, and as professional baker. She received her Master's of Divinity from Yale Divinity School in 2014 and served as intern and deacon at Christ Church, New Haven from 2012-2014. She lives in Downtown Phoenix with her black lab, Blue.