Black Forest Community Church (UCC)
Black Forest Community Church (UCC)
Who We Are
Black Forest Community Church is truly the community's congregation. Our congregation consists of people from Black Forest as well as many other areas, including Colorado Springs, Monument, Falcon, Peyton, Elbert, and others.
We are affiliated with the United Church of Christ (UCC), a mainline Protestant denomination, and made up of people from many different backgrounds and expressions of faith.
Our services are friendly toward those who are new to the church experience, as well as those who are lifetime church- goers. Holy Communion is celebrated during worship on the first Sunday of each month, and anyone who trusts in Jesus, regardless of membership or baptism status, is invited to participate. Nursery care and children's Sunday School are provided every Sunday during our worship service. We offer an informal fellowship time with coffee and snacks downstairs in Hardesty Hall after each service, and we invite everyone to participate, as this is an excellent way to meet the other congregants and learn more about the church.
We extend a warm welcome and hope you feel a part of the family of God each time you worship here.
About Us
Our Services
Leadership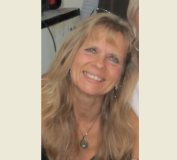 Diane Martin
Rev. Martin was ordained in the UCC in 2004. She has been with us since February 2014.