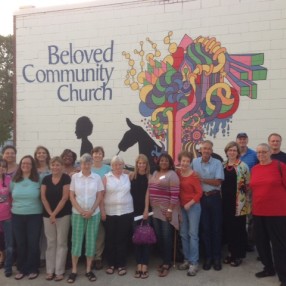 Who We Are
where all people are celebrated as precious children of God
Beloved is a diverse, welcoming, grace-filled community. We offer sanctuary for people who have not felt at home in traditional churches. Folks from all walks of life come together to grow in relationship with one another and with God. We seek healing and wholeness for ourselves, our city and our world.
We are an Open-and-Affirming Congregation of the Southeast Conference of the United Church of Christ.
At Beloved Community, we invite you to come as you are, be who you are, and grow toward who you were created to be.
Find healing and hope in the message, music, and mission of this extraordinary multiracial congregation that celebrates all people as precious children of God.
This is God's house, and that means it's your house.
---
---
Our Services
Service Times
Sunday
06:00pm

-

Worship & childrens' church
What to Expect
---
Leadership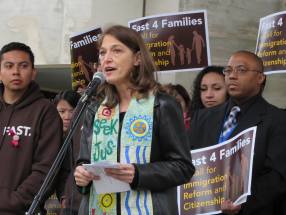 Angie Wright
Pastor
Rev. Angie Wright is the pastor of Beloved Community Church, which she founded in 2000. A bi-vocational minister, she also serves as the Associate Director for Greater Birmingham Ministries and as Chairperson of Alabama Coalition for Immigrant Justice. For over thirty years, Angie has been a leader in community and faith-based organizing for racial and economic justice. She served as the Associate Director of the Birmingham Center for Affordable Housing from 2000 – 2011 and as the Executive Director for Leading Edge Institute, preparing collegiate women to be leaders in social change, from 2007 – 2009. Angie was the Director of the Katrina Resettlement Program of Alabama, creating and managing a $19 million program serving over 2,000 families. From 1995 – 2000, she served as the Program Coordinator for the BEAT community revitalization effort in the inner-city of Birmingham. She was the co-founder of Alabama Arise, a statewide coalition of organizations which lobbies on poverty issues. From 1989 until 1993, Angie was the founder of Good Work Self-Employment Project and founding Executive Director of the Durham Affordable Housing Coalition, both in Durham, NC. Angie received her B.A. from Davidson College (N.C) in 1978, and her Masters of Divinity from Duke Divinity School in 1995. She was ordained by the United Church of Christ in 1997.
---