Avondale United Methodist Church
Avondale United Methodist Church
deepening connections with God, with each other, and with our neighbors
Birmingham, AL
Who We Are
Welcome to Avondale United Methodist Church, a welcoming congregation in the heart of Birmingham's thriving South Avondale community. The church has been a vital part of the community for over 125 years as a place where people can connect with God, with each other, and with their neighbors. We believe that God is calling us and our community to an even brighter future, and we are excited to be an instrument and witness to what God is doing among the neighborhoods of East Birmingham.
Avondale UMC has been a part of the discipleship of thousands upon thousands of members and worshippers, no one person any more or less significant than any other. Indeed, our history is made up of individuals called by God to share in God's mission by the unique gifts and graces God gives them. We pray that you will consider being a part of what God is doing in and through Avondale UMC and be a part of the Lord's future for this place.
About Us
Our Services
Leadership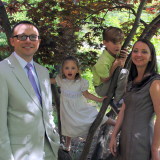 Brandon Harris
Brandon is a native of Alabama, growing up in Sylacauga and Birmingham. Brandon is an ordained elder in the United Methodist Church. He holds a Doctor of Ministry degree from Wesley Theological Seminary and a Master of Divinity degree from Duke University. His passions include teaching and leading others to experience a vital relationship with Christ. Brandon and his wife Jennifer have two children who attend Birmingham's Avondale Elementary School.