Bartlett Memorial United Methodist Church
Who We Are
Open hearts, open minds, open doors.
All are welcome at Bartlett Memorial Church UMC.
Parish Thrift Shop open Saturdays during the summer, 9:00 a.m. to 1:00 p.m. (Fill a bag for $2.) Some items are priced. Opens Saturdays.
Schedule:
August 27th, Morning Worship, 9:00 a.m. Barbara Hathaway CLM
September 2nd, Parish Thrift Shop open, 9:00 a.m. to 1:00 p.m. Donations welcome when shop is open.
September 5th, Evening Worship, 6:00 p., with Pastor Marcos, Communion.
Sept. 10th, Morning Worship, 9:00 a.m., led by Pam Doyen.
Sept. 19th, Evening Worship, 6:00 p.m., Pastor Marcos.
Sept. 24th, Morning Worship, 9:00 a.m., led by Barbara Hathaway. Certified Lay Minister.

Bartlett Memorial UMC is open to the community & public. Worship Service are on two Sundays at 9:00 a.m. 2nd & 4th Sundays, and 2 week evenings services at 6:00 p.m. , 1st & 3rd weeks, with singing, praying and hearing the Holy Word of God from the Bible Scriptures.
Administration:
Coordinating Pastor: Rev. Marcos Juliao
Administrative Council Chairman: Debra Breton
Pastor Parish Relations Chairman: Marlene Newhall
Treasurer: Cleo Roy
Trustee Chairman: Marilyn Morse
Lay Leader: Pam Doyen
Parish Thrift Shop Chairman: Marlene
The Parish Thrift Shop is open Saturdays, 9:00 a.m. to 1:00 p.m. during the summer. Some items are marked or you can fill a bag for $2. Distancing and masks for safety. Parish Thrift Shop closed for the winter.
The Shop has a Prayer Place sitting area for those who want to pray or ask volunteers to pray with them. A note pad & pen are there to list your prayer requests, just the first name. God knows who and what the need is. Sit awhile and pray & think or look over the helpful Christian books available.
There is also a Children's Reading Space where children can play, color or have a story read to them by the volunteers, while their mother is shopping.
Donations are welcome, leave item when we are open only.
United Women In Faith, Many Waters District, Spiritual Development, Barbara Hathaway
Native American Ministries: Barbara Hathaway
Bartlett Memorial UMC is open 2nd & 4th Sundays for Morning Worship Service at 9:00 am. , with music and a lot of prayer, with Words for the Day from God's Holy Scriptures. All welcome. Evening Worship Service, with Coordinating Pastor Rev. Marcos Juliao, 1 Tuesday, Worship & Communion & 3rd Tuesday, Worship Service at 6:00 p.m. until further notice. Check this site for any changes in the schedule.
Parish Thrift Shop Chairperson: Marlene Newhall
Accessibility entry by the front door. Open Saturdays June to September.
The Parish Thrift shop has a Prayer Place for prayer request, a place to sit & pray, look through a selection of helpful Christian books, or talk with one of the volunteers. They are good listeners. Volunteers will prayer with you if you ask. A note pad & pen are provided for written prayer requests, by only writing a first name. God knows who and what are the needs.
A Children's Reading Area is ready to use when their mother's shop and where the children can play, color, or have a book read to them by a volunteer.
Thank you for shopping at the Parish Thrift Shop and for all the donations given.

The Little Library, a book Kiosk, has been added at the church near the church sign. Pick up a book and or leave off a book. Enjoy reading and help someone else enjoy a good read too.

---
---
Our Services
Service Times
Sunday
09:00am

-

June: We are still distancing. We are working on how to offer worship at the church soon but will make sure the church is sanitized and provide a Sanitize station at entry as well as continue with required distance of at least 6 feet. Please be in prayers for the family of George. Also prayers for our country to calm emotions and think before they act. We ask for God to guide us and help us act with compassion. Until then, SS Stay Safe.

09:00am

-

April 4th, Easter 2021 Worship Service, 9:00 a.m., Distancing and masks required. All welcome. Please join us to praise the Lord. Jesus is alive!

09:00am

-

January 10, 9:00 a.m., Sunday Worship Service

09:00am

-

January 24, Sunday Morning Worship Barbara Hathaway Certified Lay Minister

09:00am

-

Dec. 27, Christmas Sunday Worship. 9:00 a.m. (correct time) led by Barbara Hathaway. distancing & masks required, Sanitation Station left of entry door.

09:00am

-

July: We are making plans for regulations in opening the church for gathered worship but must wait for the ok from the UMC District. Please keep all in prayers till we meet again.

10:00am

-

May 2020 We are still discontinuing at church but are listening to video of Wayne UMC with Pastor Rotherham, to stay connected. Facebook Daily Devotionals & Mini Worship Service is offered by Lay Leader Barbara Hathaway, CLM, on her Facebook page. We will continue in prayers for everyone and keep posted info here as available. Wash your hand. Stay safe & remember God loves you.

10:00am

-

We are sorry to say we are discontinuing gathered worship for a couple of weeks due to the Corona Virus. Continue to prayer and be concerned for your neighbors. I will keep you posted.

10:00am

-

We are still discontinuing the services at church but are continueing in prayers for everyone. Will keep posted infor as available. Stay safe. God loves you.

10:00am

-

Check out FaceBook for Sunday Words For The Day & Maine United Methodist Women's site.

10:00am

-

Check out United Methodist Women's website and stay connected.

06:00pm

-

April 6, Tuesday, Worship Service & Communion with Pastor Angela. Planning meeting after. Please join us celebrating new members.
Tuesday
06:00pm

-

Tuesday Nov. 10th, Communion at Bartlett Memorial UMC, with Rev. Angela Rotherham. Bring your own Communion elements to be blessed by the Pastor. Please remember distancing & wear your masks to keep everyone safe & healthy. Thank you.

06:00pm

-

January 19, Evening Worship
Wednesday
06:00pm

-

Dec. 22, 6:00 p.m. (correct time) Christmas Candle Light Service led by Rev. Angela, Scripture Study Luke 2, Masks & distancing required, Sanitation Station at left of entry door.

06:00pm

-

January 6, Wednesday, 6:00 p.m., Epiphany & Communion with Pastor Angela Rotherham
---
Leadership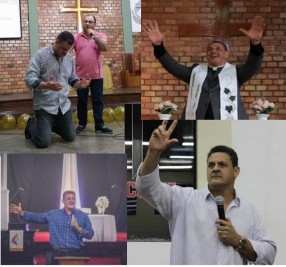 Marcos Juliao
Coordinating Pastor Morcos Juliao
Pastor Marcos Antonio Juliao is an Elder from The Methodist Church in Brazil. He has been serving the New England Conference UMC since he finished his master's degree at Boston University. His ministry has been diverse, and he has served in different settings, regions, and conferences in Brazil from seminarian to District Superintendent in Sao Paulo and Amazonas/Roraima, he also had the opportunity to preach the Gospel in different countries in 4 continents. Pastor, writer, missionary reverend Marcos is a husband and father. He loves to see the Church as a body of Christ, and he has been dedicating his life to equip and care for people who desires live as disciples of Jesus Christ. He is now Senior pastor in Wayne Community Chuch, Wayne ME. And He is Coordinating Pastor in Bartlett Memorial UMC, No. Jay, ME
---
Bartlett Memorial UMC is a servant church in the heart of North Jay, Maine. The laity are committed to serving their community with their time, talents and gifts. This happens every Sunday Morning with gathering for a thoughtful and welcoming service. They are also very hard at work with the Thrift Store next to the church, which is open every Saturday from 9:00 am - 3:00 pm with bags of items for $1 or priced as marked. They have wonderful clothing and many useful household items. They are present to show their love and care to their neighbors.

The Annual Candle Lighting is a spiritual experience. The Nativity Story relates that Jesus is the Reason for the Season. Preparation with prayer on Wed. Dec. 19, 11:00 a.m. to 1:00 p.m. weather permitting. Christmas Eve Service & Annual Candle Lighting December 24th @ 6:30 p.m. Attend and ask a friend to join you. Prayer Days Jan. 16th & Feb. 20th, 2013. Please pray where ever you are.

Bartlett Memorial UMC is a doors open, God loving, Bible teaching, Praying, Jesus walking church that provides the fellowship and spiritual needs of the congregation and the community. The beautiful stained glass windows radiate the light that reminds us of God. Missionary activities include providing school bags for children, baby clothing, food pantry support, and a summer Parish Thrift Shop.
Create an account or sign in to save your experience.
Go here? Tell us why you love Bartlett Memorial United Methodist Church. Visited? Tell us what a newcomer can expect.