Bartlett First Assembly of God
Bartlett First Assembly of God
We want to be the Holy Spirit's voice to our community!
Bartlett, TN
Who We Are
Our purpose is to serve our community and YOU. We are a pentecostal church located in the Wolfchase area of Memphis. We provide many services to the community and hope that you can join us to worship on Sundays and Wednesdays.
About Us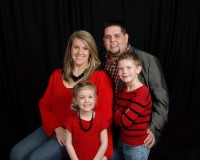 Johnny Byrd
Lead Pastor
Pastor Johnny and Mallory have a heart for the community of Bartlett. Mallory was born and raised in our great city, and now teaches and coaches in the Bartlett City Schools. Johnny moved here in 2002 to be on staff at Bartlett First. Since that time, Johnny graduated from Mid-South Masters Commission, and completed his upper-level Assembly of God credentials through Tennessee School of Ministry. Both Johnny and Mallory have served in every area of ministry from Nursery to Senior Adults. God has given them a vision not only for our church, but this community.