Eads United Methodist Church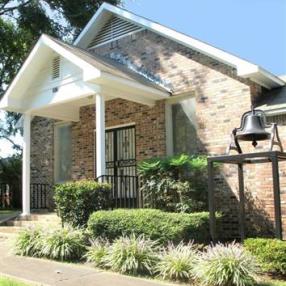 Who We Are
Eads UMC, located at 2917 Jefferson Ave., Eads, TN, is a rural and small Methodist church family in east Shelby county. Our roots in the community are strong and reach back well over a century. Some of our members share long and, often , lifelong bonds based upon the teachings of Jesus Christ. We ernestly welcome visitors and new members to join our family of faith.
Dr. Cecil L. Bellew is pastor. Dr. Bellew has, for over 40 years, pastored many UMC Churches, large and small, throughout western Tennessee and Kentucky and we are blessed by his inspiring messages and service to us.
Sunday services are held at 11:00 a.m. and on the 1st Sunday of each month we celebrate Christ's teachings with Holy Communion. On the last Sunday of each month we join together in a pot-luck luncheon and informal fellowship following the Sunday services. Visitors are always welcome!
Adult Bible studies are also offered each Sunday from 9:30.to 10:30 a.m. Our typical Sunday's worship attendance is around 20 . The church atmosphere is very warm, friendly and, foremost, caring.On 4-5 special occasions throughout the year we have joint services with our "sister" rural church, Chambers Chapel UMC, that is located at 3979 Chambers Chapel Road, just off Route # 64, in Arlington, TN.
---
---
Our Services
Service Times
What to Expect
---
Cecil Bellew
In 2012 Dr. Cecil Bellew was sent to be our pastor. Dr. Bellew is a graduate of The Vanderbilt Divinity School. He has pastored a number of churches in the Memphis Conference, including Covenant and Colonial Park. Dr. Bellew has also served as the Brownsville District Superintendent. His leadership has been a blessing to our church. He has encouraged our participation in multiple outreach ministries, including the United Methodist Neighborhood Centers of Memphis, Reelfoot Rural Ministries, Hanna's Hope, and Fayette Cares.
---