Baptist Churches in Las Vegas, NV
Discover 1 churches
Find a Church
Denomination
Baptist churches describe themselves with words like friendly, multigenerational, and casual.
Popular church music styles include traditional hymns, contemporary, and gospel choir. Baptist churches often offer children's ministry, youth group, missions, nursery, and community service programs.
Visitor Experiences
"Weed User: You are losing sight of the conflict. Educate yourself on the dangers of noise. If the police were doing their homework, they could have prevented this, but they allowed something so deadly to continue. All the signs were there and ignored. It's sadistic and reflective of who we a......read more"
Peter
at
Iglesia Bautista de Fe y Amor
Featured Leader
Andy Coté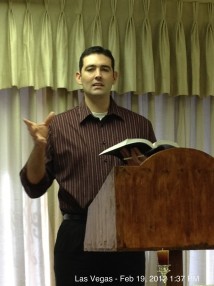 Saved at the age of 9. Graduated from Bible College in 2006. Lived as a missionary in Honduras for a year in 2006. Ordained into the pastoral ministry in 2010. Used by God to plant Faith Love Baptist Church in 2012.
Baptist Churches in Las Vegas