Wooster, OH
Zion Evangelical Lutheran Church
Zion Evangelical Lutheran Church
Be Disciples, Make Disciples
Wooster, OH
Who We Are
All are Welcome!
Zion is a member of the Evangelical Lutheran Church in America (ELCA) and a part of the Northeast Ohio Synod (NEOS).
We are located in downtown Wooster, Ohio.
We offer three Sunday worship times/ themes: 8:45am Coffee House (Contemporary); 10:45am Traditional Worship, and [email protected] for the community to Discover Zion while we gather for a meal and worship at 6:00pm.
We provide an Adult Bible class and Youth Sunday School at 9:30am during the school year (no classes in summer).
We also offer pastoral care- prayer, home/ care facility/ hospital visits.
Communion is served each Sunday and available by appointment for those without access to Sunday worship services.
On the main level of our facility, we have our pastor office, main office, accountant office, a traditional sanctuary, a small chapel hall, gathering space with a kitchenette. Our lower level is especially designed for our contemporary service, with a fellowship space that includes round tables, chairs, and a full commercial kitchen. Upstairs we have our conference room and Sunday School office and class rooms. Elevator in rear Larwill Street entrance, gains access to all 3 levels. 2 parking lots (1: side- at the green awning off of Market St. & 2: rear- at the corner of Buckeye & Larwill).
We host the local Cub Scout Pack and Boy Scout Troop- both meet in our red activities center on-site.
We have an outdoor worship service once a year, in our fenced in yard, under our pavilion out back.
We are actively involved with and support our American Cancer Society Relay for Life Team.
We open our commercial kitchen to Ohio State for their Cooking Matters classes.
The local Corvette Club meets here monthly.
We have several outreach programs, serve our community, and love sharing God's Glory with others.
We open our Food Pantry each Sunday at 5pm (limitations/ restrictions apply), then offer a meal with worship.
MUSIC! We have our Coffee House Praise Band, a Senior Choir, Glory Ringers Handbell Choir, and a Youth Handbell Choir!
You are welcome to join us!
About Us
Our Services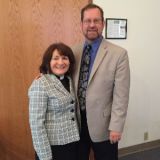 Ann Paynter
Pastor
The Rev. Ann Paynter came to Zion in Wooster, Ohio, in 2012 from Wadsworth, Ohio. Welcoming everyone to a Sunday worship: 8:45am- Coffee House (a contemporary worship) 10:45am- Traditional worship 6:00pm- Community outreach meal and worship to Discover Zion (
[email protected]
)