Woodstock Reformed Church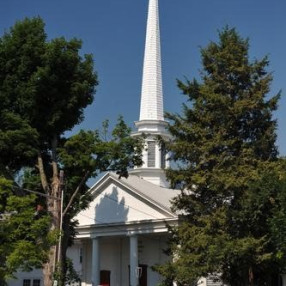 Who We Are
We are a congregation who gathers to worship the triune God in the heart of famous Woodstock, New York, in a historic building on the town's Village Green. We are a diverse congregation who live and serve in places throughout the region -- not only in Woodstock, but in Saugerties, Kingston, Boiceville, Olivebridge, Port Ewen -- even as far as New York City and New Jersey!
We are a congregation of somewhere around 140 brothers and sisters all told. We are an active church, with ministries and activities for people of all ages all the time. We love to welcome visitors and tourists and those seeking a church family.
During the school year, we have a small and strong Sunday School for children age 3 and up during worship (except on the first Sunday of the month, when our children join the adults in worship to celebrate the Lord's Supper together as a whole congregation.) Children younger than three are welcome year-round to our nursery, where our staff nursery care-givers care for the littlest ones.
We are also pleased to say that our facilities are fully handicapped-accessible!
---
---
Our Services
Service Times
---