Vineyard Church of Ann Arbor
Ann Arbor Vineyard is a Multi-ethnic church blending Christian creeds and discerning culture.
Ann Arbor, MI
Live Stream
Plan Your Visit
Our Services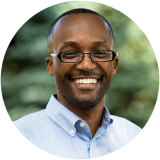 Rev. Donnell Wyche
Senior Pastor
The Reverend Donnell Wyche serves full-time as the Senior Pastor and the Head of Staff. Pastor Donnell joined the Vineyard church in 1997 and joined the staff in 1999 and was ordained in 2004. He grew up in Washington, DC and received his B.A. in computer science from The College of Wooster in Wooster, Ohio and is a graduate of Vineyard Leadership Institute. Passionate about the intersections of race, faith, politics, and technology, Pastor Donnell started out as a Solution Architect at IBM in Southfield, MI. Since then, Pastor Donnell has served as a national task force leader for youth ministry and multi-ethnicity within VineyardUSA. He has led seminars and trainings on becoming culturally competent, transitioning your church to a multi-ethnic church, and has served as a part-time instructor in web technologies at Washtenaw Community College. Pastor Donnell is the president of the board of the InterFaith Council for Peace and Justice and has pursued issues of affordable, fair, and accessible housing as a board member of the Religious Action for Affordable Housing. As a trained computer engineer, Pastor Donnell created, in partnership with the late Phyllis Tickle, the online home of The Divine Hours. His latest technology project is Community Center for Churches, a software tool to help pastors better care for and shepherd their congregants. Pastor Donnell is married to Maria, an early childhood advocate and speech-language pathologist, and together, they are raising three multi-ethnic, spiritually engaged, peace loving, politically aware, woke activists! You can reach Donnell via email or by phone at (734) 477-9135 x115.