Nhà thờ Tin Lành Báp Tít Việt Nam - Vietnamese Faith Baptist Church of Charlotte North Carolina
Who We Are
Hoi thanh Viet Nam o Charlotte, nha tho tin lanh Bap Tit, Vietnamese church in Charlotte
Nhà thờ, hội thánh Tin Lành Báp Tít Đức Tin Charlotte - Vietnamese Faith Baptist Church Charlotte.
Xin kính mời quý vị đến hội thánh chúng tôi để học biết về ơn cứu rỗi của Thượng Đế. Chúng tôi cũng có cầu nguyện chửa lành cho những ai cần. Hãy đến thờ phượng và tiếp nhận phước lành của Thượng Đế.
​
Come to our church to learn the saving grace of God. We also offer the healing prayer for any one who need healing. Please come and join us for wonderful services with joyful spirit fill with God presence.
​
---
---
Our Services
Service Times
Sunday
10:00am

-

prayer

10:30am

-

Sunday Shool

11:00am

-

Worship Services
Thursday
09:00pm

-

Discipleship teleconpherence trainning
Friday
08:30pm

-

Revival Prayer frist week of the month
---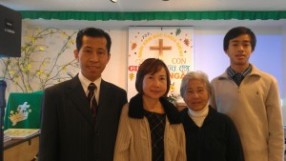 HAI CHUONG
PASTOR
---
Tôi đang cần việc làm,nhưng không biết lái xe,nếu bạn giúp được tôi thì tôi rất mong muốn có một việc làm,hàng ngày tôi cũng đi bộ gần nhà.Nhà tôi ở Palomar MOUNTAIN DR .Tôi không muốn người nhà biết tôi cần sự trợ giúp của bạn để tôi nói là người quen đi bộ rồi gặp nhau rồi nói sẽ giúp.Bạn có muốn gặp thì gặp tôi vào buổi sáng cỡ hơn 9h

So much joy and happiness from the Lord!!!
Create an account or sign in to save your experience.
Go here? Tell us why you love Nhà thờ Tin Lành Báp Tít Việt Nam - Vietnamese Faith Baptist Church of Charlotte North Carolina. Visited? Tell us what a newcomer can expect.