Who We Are
It is our purpose at Trinity to share the love of God in Christ Jesus with such joy that more and more people would come into a transformed relationship with Christ.
Trinity Lutheran Church belongs to the Sierra Pacific Synod, part of The Evangelical Lutheran Church in America. (ELCA) Trinity was established in 1966 with 54 charter members. Over the years we have seen a tremendous growth in spirit and ministry. We currently minister to over 600 people who call this congregation their church home. In addition, our Sonshine Enrichment Center Preschool serves over 170 young people and their families.
About Us
Our Services
Leadership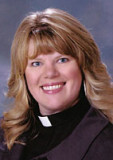 Heidi Hester
Pastor
Rev. Heidi Hester began her life in Montana, lived numerous places throughout the West Coast finally landing in the Pacific Northwest where she enjoyed being in the junior and senior high orchestras, marching bands, student governments and drama clubs. She was also very active in church whether in youth group or in the choir. She attended Pacific Lutheran University in Tacoma, Washington getting her bachelor degree in Communication/Public Relations. After graduation, she served for seven years in Washington as Director of Youth and Family Ministries at Silverdale Lutheran Church and Trinity Lutheran Church. Moving to Southern California, she found herself working as an Executive Assistant for one of eight attorneys at CBS, Inc. in the network legal department. She followed her call to attend Pacific Lutheran Theological Seminary in 1999. While attending PLTS, she did her teaching parish at St. Andrews Lutheran Church in San Mateo, her internship in Kailua, Hawaii, and was ordained on May 25, 2003. Rev. Hester served as pastor of Shepherd of the Hills Lutheran Church in Whittier for seven years before joining the Bishop's staff in February, 2009 as Assistant to the Bishop in the Pacifica synod. Rev. Hester's portfolio includes Mobility (working with congregations in transition), Candidacy (assisting those who are seeking to join the roster of the ELCA), Worship, Theological Education, Pastoral Care, Campus Ministry and Outdoor Ministry.