Who We Are
The Episcopal Church strives to live by the message of Christ, in which there are no outcasts and all are welcome. Walking a middle way between Roman Catholicism and Protestant traditions, we are a sacramental and worship-oriented church that promotes thoughtful debate about what God is calling us to do and be, as followers of Christ.
The beauty of the Episcopal tradition is that it is open to questions and new possibilities, as well as ancient teachings. Imagine a spiritual practice that is both grounded in tradition and open to new possibilities.
About Us
Leadership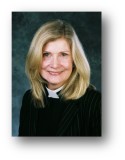 Rev. Lauren Lyon
Lauren received the M.Div. degree from Yale Divinity School in 1994 and was ordained to the diaconate and the priesthood that year in the Diocese of West Missouri. She remained canonically resident in that diocese since then, serving congregations in Carthage and Harrisonville, Missouri and churches in the Kansas City metro area before coming here to Trinity in February 2014.