Grayslake , IL
Torch of Faith
Torch of Faith
Friendly People. Practical Teaching. Great Stuff for Kids.
Grayslake , IL
Who We Are
Friendly People - People come in all shapes and sizes and God loves every one of them. We believe that acceptance is where the conversation begins, and we're going to go above and beyond to make sure you have a positive, friendly experience with us. Even if you're an introvert, even if you don't come from any spiritual background at all, you matter to God and you matter to us.
Practical Teaching - Every weekend, we want to make sure you hear a practical lesson from the Bible that will help make life work. Sunday morning is a celebration but we're just as concerned with how life is actually being lived (at work, in your marriage or parenting) Monday through Saturday. This and ever Sunday, you'll hear no-nonsense solutions from God's word that you can use throughout the week.
Great Stuff for Kids - Whatever the age of your kids, just like you, we want to help them take their next Spiritual Growth step and have fun while they do it. We're going to provide environments where your kids can make friends, have fun, and explore what it means to be a growing Christ-follower.
About Us
Our Services
Leadership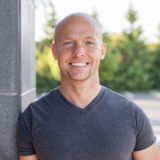 Mark Carter
Lead Pastor
Pastor Carter serves as Lead Pastor of Torch of Faith. 'Carter' is really Pastor Mark's last name, but most folks around Torch of Faith just call him 'Carter'. He received a Masters of Pastoral Ministry degree from Trinity Theological Seminary in 2008. Carter is currently pursuing a PhD in pastoral ministry from the same school. Carter has a burden and passion that people would know the thrill and joy of walking deeply and tightly with Jesus Christ through dynamic encounters with Him in the Word of God. Cart-Dizzel is stoked about genuine spiritual substance and raising up leaders who will tap their unique giftedness and walk in the power of the Spirit, becoming a blessing to the earth.