West Des Moines, IA
The West Town Church
The West Town Church
We desire to provide a place of encouragement, refuge and refreshment.
West Des Moines, IA
Who We Are
At The WTC, we believe our purpose is not only to reach out to non-Christians, but more primarily to provide a place of encouragement, refuge and refreshment to all Christians. We are members of the same body and need one another. We seek, therefore, to demonstrate God's love in tangible ways: caring for those who have physical, financial, or emotional needs; loyally supporting and defending one another's reputations; committing ourselves to one another's spiritual growth; and developing close, edifying friendships. We desire greatly to be known as a church which demonstrates the love of God in very warm and practical ways (I John 4:7).
We desire to strike the balance of loving in such a way as to accept people where they are and yet strive in gentleness and humility to see each person change to become all that God would want them to be.
The WTC seeks to participate in expanding the Kingdom of God. The Kingdom of God grows in one significant way when God opens up the heart of someone who doesn't believe in such a way that they believe. Another way that the Kingdom grows is when God speaks to someone who is a Christian yet is not functioning within a church. Once he or she begins to function, God is glorified. Our target therefore is the unchurched.
The WTC is a satellite congregation of Walnut Creek Community Church in Windsor Heights. While Walnut Creek is one church, we meet in multiple locations and multiple congregations.
About Us
Our Services
Leadership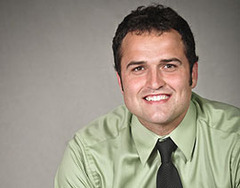 Dan Rude
Dan enjoys serving his family and the church, reading the Bible, sharing the gospel, and hanging out with his family and friends. The idea that we represent Christ to this world is a truth that helped Dan make sense of the Bible and the commands of God. After understanding God's love for him and that he can join the creator of all things in doing something that counts for eternity, his life has never been the same. Dan and his wife, Meg, have been happily married since 2007. The Lord has blessed them with three children: Quinn, Rex, and Myla.